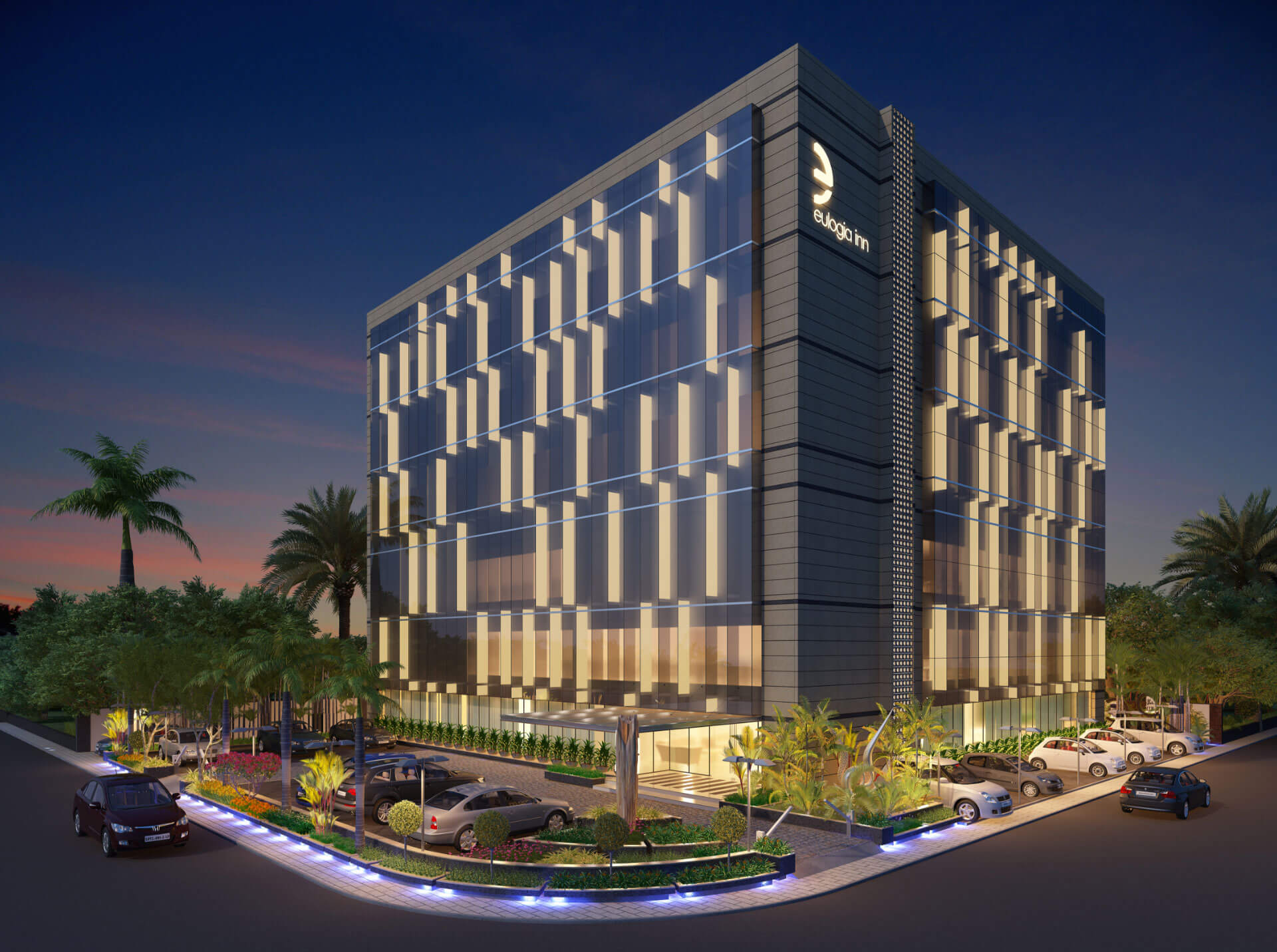 We convened a three storey constructed commercial building into a magnificent hotel without exterminating basic infrastructure.
Hotel Eulogia – one of the most luxurious Hotels in Ahmedabad designed by Architect Devang Shah is the new landmark of the city. With its extraordinary architecture, design, amenities and unique golden logo Eulogia is redefining hospitality as well as architecture. Hotel Eulogia is first of its kind where interactive art has been used. The interior designer Devang Shah has integrated traditional features along with modem and innovative style in the design to serve the blend of the Indian art and contemporary to the guests. The moving floor pattern implemented by the designer brags its own uniqueness.
'While conceptualising the designs of Hotel Eulogia my idea was to infuse splendour, magnificence and stateliness at the same time as it was the first of the chains of hotels planned by the client. The Idea was to ingrain the attitude, standard, quality and passion of hospitality which the client followed. But it was not that easy to design this hotel as initially the building was planned to be commercial building. And challenge to me was to transform a three floor constructed commercial building into a hotel without exterminating basic infrastructure",
– Ar. Devang Shah.
Landscape, Interior, Architecture, Hospitality & Destination, Sports, Wellness & Recreation, Public Space
Norwegian Wild Reindeer Foundation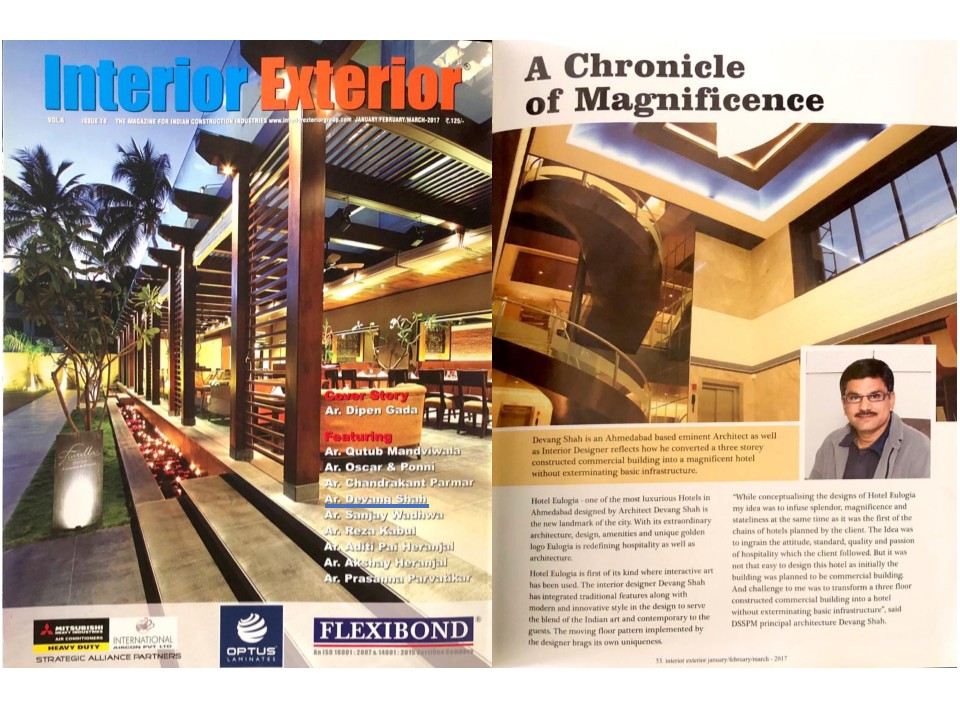 The architecture of the hotel reflects a work of immense precision as well as unwavered perseverance. Can you imagine any four star hotel to be built within 500 days with every customized design of architect in place along with prescribed interior and its elements? Well here is one at your perusal. Every minutest details right from the lobby light fittings to the wash room tray and room console unit was designed skillfully. Not a single piece of any product was imported from China.
Hotel Eulogia houses 49 rooms, 6 suites and conference rooms comprising of fine dining Aced banquet. Six state-of-the art suite rooms are each designed differently to offer diverse experience to the inhabitants. The hotel comprises mock-tail bar, Banquet hall, NRI floor with centre space called 'SPLICE' and Family floor. Hotel Eulogia houses Two Presidential Suites, Two Honeymoon Suites, and Two Premier Suites.
One of the important features added to the hotel architecture and interior is the sprawling entrance lobby of 4500 sq ft that imparts grande to the hotel. Likewise introduction of encircled, free standing stairs . an approach to the restaurant presides on first floor and banquet hall is to furnish an aura of magnificence to the hotel. A lively mock-tail counter created at the lobby gives a visual treatment from the restaurant as well as entrance. Moving floor pattern is conceptualization of the architect's vision. The floor patterns are intentionally shifted and designed on each floor of the five floor building, such that while descending, the stairs the floor patterns given an illusion of motion. Ground floor has entrance lobby, mock-tail counter and Banquet with capacity of 100. First floor consist of multi-cuisine restaurant, fine dine that serves a variety of tasty food. Second floor boasts of a well-equipped banquet hall with more than 800 person capacity. The remaining three floors carry's 45 Premier Guest rooms and six luxurious suites. Third floor of the building has been designed as a family floor with central hall 'UNWIND' equipped all modern and required amenities best suited to organise family functions such as Mehndi, Sangeet, Birthdays or personal parties.
PRESIDENTIAL SUITES: Magnificence is an experience which has to be lived, Grandeur is achievement which needs to be celebrated. Experience the myriad faces of opulence that has been meticulously crafted for you… Have the pleasure of commemorating your accomplishments once more
PREMIER SUITES: Luxury has to be treated with lavishness, Pampered with elegance and embellished with classiness… Soak in the grace, refinement and sophistication at every move Let your stay leave an impression.
HONEYMOON SUITES: Love immerses the surroundings in its hue… A suite for love is aptly designed with a brush dipped in the color of passion, splashing a stroke of romance in every inch of the interior….Step in to carve your own story of commitment.
Honeymoon suite is designed to achieve comfort and privacy by using the theme of soft colour blended with furniture placement, dramatic and lavish lighting effects and soft touch of fabric materials. Every inch of decor and designs such as mushy cushions, silky bed sheets, and aromatic melting candle lights reflects romantic flavour adding opulence to the splendour.
Fourth floor is furnished as an NRI floor with a special centre space called 'SPLICE' a perfect space to organise seminars, training, meetings and other corporate events. Fifth floor has a cutting edge design of a corporate environment with board room named TOPLINE'.
Hotel's Premier Guest room a combination of art and style are amongst largest guest room in the city offered by any hotel of its kind. Bathrooms are equipped with luxurious modern amenities allowing ample of natural sun light to make it presence and to get an extreme feeling of rejuvenation. Your search for the best Honeymoon Suite ends at Eulogia's Honeymoon Suite. This special Honeymoon suite is adorned with larger than life exquisite round beds, Jacuzzi with perfect mesmerizing settings, stylish flooring, romantic lighting and inimitable decors.